Coal India Limited (CIL) is a Schedule 'A' 'Navratna' Public Sector Undertaking under Ministry of Coal, Government of India, with Headquarters in Kolkata, West Bengal. CIL is the single largest coal producing company in the world and the largest corporate employer in the country with manpower of 409,332 (as on 1 July 2009). With proven coal reserves of 105.82 Billion Tonnes out of total reserves of 267 Billion Tonnes (as on 1 April 2009) Coal India plays a pivotal role in Indian energy scenario.
The improved physical performance and strong financial showing in recent years, coupled with the need for accelerated coal production to meet huge capacity addition that is taking place in the country led to CIL being conferred the coveted Navratna status (October 2008). CIL joined the select band of significant players in the economic development of the country. Navratna means a lot more in terms of empowerment and the increased powers will help CIL in taking speedier decisions for its project approvals. The elevated status provides more financial and operational autonomy to CIL and it can take decisions on its own for investing in projects. CIL shall be even more diligent and responsive to the needs of its consumers.
Corporate Structure and subsidiary companies

Coal India is a holding company with seven wholly owned coal producing subsidiary companies and one mine planning & consultancy company. It encompasses the whole gamut of identification of coal reserves, detailed exploration followed by design and implementation and optimizing operations for coal extraction in its mines. The subsidiary companies are,
Eastern Coalfields Limited (ECL), Sanctoria, West Bengal;

Bharat Coking Coal Limited (BCCL), Dhanbad, Jharkhand;

Central Coalfields Limited (CCL), Ranchi, Jharkhand;

South Eastern Coalfields Limited (SECL), Chattisgarh;

Western Coalfields Limited (WCL), Nagpur, Maharashtra;

Northern Coalfields Limited (NCL), Singrauli, Madhya Pradesh;

Mahanadi Coalfields Limtied (MCL), Sambalpur, Orissa;

Central Mine Planning and Design Institute Limited (CMPDIL), Ranchi, Jharkhand. (Consultancy and Planning Organisation)
North Eastern Coalfields (NEC) a small coal producing unit operating in Margherita, Assam is under direct operational control of CIL.

Coal India operates through 79 areas and 473 mines of which 279 are underground, 163 opencast and 31 mixed mines. CIL further operates 18 coal washeries, (12 coking coal and 6 non-coking coal) and also manages 200 other establishments like workshops; hospitals etc. CIL has 26 training Institutes in its eight companies. Coal India's major consumers are Power and Steel sectors. Others include Cement, Fertiliser, Brick Kilns, and small scale industries.

Consumer Profile

CIL commands 75% of the Indian coal market. CIL fuels 76 power stations (69812 MW) out of 78 coal-based thermal power stations (71055 MW), which is 75.5% of total thermal power generating capacity of 92893 MW in the country. 78% of total coal produced by Coal India is catered to Power Utilities in the country. CIL also fuels Steel, Cement, Fertilizer and a host of other industries.

Growth Plan

With a modest coal production of 79 Million Tonnes (MTs) at its inception in 1975, CIL has been consistently increasing its production, sustaining growth, over years and ended the fiscal 2008-09 with a production of 403.74 Million Tonnes. CIL's targeted production for 2009-10 is 435 MTs. With the annualized growth rate pegged at 7.6% during the XI Five Year Plan (2007-2012), and entrusted with the task of fuelling country's energy needs, CIL is expected to produce about 520.50 by 2011-12.

As leader in the energy sector, CIL is expected to meet the increased production of coal in the years to come. Looking further into the future perspective, CIL envisages reaching a production level of 664 MTs in 2016-17.

New Avenues in Coal India Limited - Strategic Initiatives/Thrust Areas

Refocus on Underground Mining: To sustain the reserves for longer period of time CIL is refocusing on UG production for tapping large reserves below 300 metres depth. In a paradigm shift, keeping with the recent global trend, Coal India has set its eyes on developing underground mines in a big way by adopting state-of-the-art mass production technology. Though the cost of production through this means is significantly higher than opencast production and though there is no immediate need for CIL to pursue this harder option, CIL in its role as a responsible Corporate Citizen has opted for this initiative in the national interest, This also includes production from High Wall Mining proposed to be introduced in an effort to reverse the downward trend in UG production. CIL has identified 7 UG properties for development and a global Expression of Interest has been issued. Expressions of Interest have been received for construction, development and operation of 2 MT - 5 MT annual capacity underground mines. 9 parties have been short listed. Draft NIT was circulated amongst the short listed parties and pre-NIT meeting was held. NIT document is being finalized and once complete the subsidiary companies will float tender for individual mines.

Developing abandoned mines: Another significant initiative has been the revisit of mines abandoned in the past for reasons other than exhaustion of reserves. Some of the reasons were mine fire in working seams/neighbouring seams; presence of water in and around the mine; poor economic returns due to obsolete technology; 18 such mines with estimated reserves of over 1647 Million Tonnes of high quality coking and thermal coal have been identified for developing once again under a Joint Venture arrangement with the association of internationally reputed global underground mining companies. An Expression of Interest has been floated and 12 responses received are under scrutiny. A pre NIT meeting was held in July 2009, with the short listed parties for finalization of the NIT document. Once ready, the document will be issued, expectedly in August, to the short-listed bidders for final round of tendering.

Coal Beneficiation: With limited scope of product differentiation, competitiveness of generic products like coal primarily center around quality and price. To make the product globally competitive qualitatively, bringing international standard consistency in quality is the thrust area of CIL. Coal India has taken a policy decision that all non-pithead consumers get washed coal by 2011-12.

The move towards large scale washing of coal was stalled in the past because of the debate as to who shall bear the washing cost. As the largest coal producer in the world CIL in order to bring in best practices had decided set up coal washeries, with its own finances, in all its prospective open cast mines of capacity 2.5 Million Tonnes and above. In other words, CIL has decided to bear the washing cost. Nevertheless, the consumers shall pay for the resultant consistency in coal quality and higher heat value.

Participation of organizations with requisite core competence in coal washing practices is being sought for creating coal beneficiation facilities on Build-Operate-Maintain (BOM) basis by global bidding. In the first phase CIL has identified to set up 19 Washeries by 2011-12 having a total washing capacity of 100.6 MTY primarily for non-coking coal. Coal India will provide fund and infrastructure like land, power, water, railway siding.

Coal Videsh: The yawning gap between the country's demand and availability of coal is likely to increase to 200 MTs by next 5-6 years. Along with the enhancement of the country's production capacity due thrust has to be given on import of quality coal to overcome this deficit. 'Coal Videsh' was formed with the intent of enhancing the energy security of the nation. Coal India is focusing on thermal coal abroad to supplement indigenous availability. CIL is to planning to acquire mines abroad through Coal Videsh division by taking up equity stakes in working mines or green field projects on production sharing basis. Through this venture, CIL also envisages to imbibe "Transnational" competence in coal business and transform itself into a global energy company.
Acquisition of Coal Mines in Mozambique: CIL was successful in bagging two virgin coal blocks in Mozambique through competitive bidding. The two coal blocks A1 and A2 span an area of about 224 Sq. Kms. Explorations on the blocks are likely to commence in about six months. CIL is in the process of forming a Joint Venture with a company to be nominated by Mozambique authorities. Investment Bankers also scouting for acquisition/JV opportunities with Mozambique companies holding prospecting license. Coal mined from these blocks will be imported primarily to meet customer demand in the country, especially western India.
Coal Reserves (As on 1st April, 2009)
Total Reserve

Proved

Indicated

Inferred

(In billion tonnes)

Coking

33.4

17.5

13.8

2.1

Non-Coking

233.8

88.3

109.7

35.8

Total

267.2

105.8

123.5

37.9
Physical Performance (Raw Coal Production)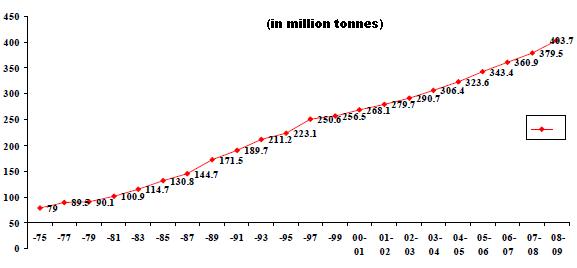 Summary Financials
P&L (All figures in US $ billion)
| | | | |
| --- | --- | --- | --- |
| Year | 2006-07 | 2007-08 | 2008-09 |
| Revenues(Turnover) | 7.03 | 7.72 | 9.21 |
| EBITDA ( Gross Margin) | 2.00 | 1.88 | 1.15 |
| Net Income (Profit after tax) | 1.14 | 0.76 | 0.42 |
| Net Income margins (PAT/ Turnover) | 16.21% | 9.85% | 4.51% |
Balance Sheet (All figures in US $ billion)
| | | | |
| --- | --- | --- | --- |
| Year | 2006-07 | 2007-08 | 2008-09 |
| Shareholders Funds Including reserves | 3.2 | 3.62 | 3.83 |
| Cash and cash equivalents | 3.2 | 4.12 | 5.94 |